And then there were two. The Tony Awards for Best Play and Best Musical are the most coveted of all theatrical awards, because they are the only two that have any proven effect on box office receipts. I don't believe for one second that the beautifully done but decidedly different Once would still be running if not for its Best Musical win two years ago, and Kinky Boots was just another show until it won the big prize last year and then suddenly became one of the hottest tickets in town. And while the Best Play recipient doesn't receive as much of a box office boost, winning the Tony definitely increases interest in the play, ensuring a far greater number of regional and amateur productions in the future
So which two shows can look forward to a raised profile after Sunday's awards? Read on to find out!
Best Play
Nominees:
Act One; All the Way; Casa Valentina; Mothers and Sons; Outside Mullingar
The Best Play category definitely caused the most surprise when this year's nominations were announced. Despite a general consensus that this season was not a particularly strong one for new plays, this was the only category to benefit from the
rule change
that allowed an increased number of nominees. It definitely left people (myself included) scratching their heads, especially when arguably stronger fields like Best Musical and Best Revival only produced four nominees apiece.
Since John Patrick Shanley's
Outside Mullingar
only received one nomination, I can't imagine the long-closed show actually managing a win here. And although it has its supporters, I think
Mothers and Sons
is pretty much out of the running as well. That is as it should be; the play touches upon some emotional issues, but does none of them justice thanks to poor writing, haphazard characterization, and uneven performances. There is enough support of MTC's
Casa Valentina
that I would consider it a dark horse candidate, although I think playwright and industry icon Harvey Fierstein has gone back to the drag/crossdressing well one too many times for voters to award him the big prize. The always genial Fierstein will just have to content himself by counting the royalties from the still-running
Newsies
and
Kinky Boots.
The "race," if you can even call it that, is between Lincoln Center's
Act One
and political drama
All the Way.
The heavy use of quotation marks comes from the fact that pretty much everyone agrees that
All the Way
is destined to win on Tony night, having won every other Best New Play award of the season. The long and sometimes meandering
Act One
does seem to hold a special place in the hearts of older industry folk, but
All the Way
is the play to beat.
Should Win:
I've only seen one of the nominees, so I don't really feel qualified to answer this one
Will Win:
All the Way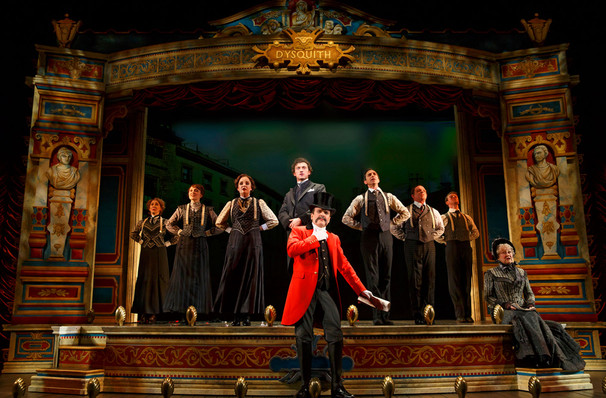 Just as protagonist Monty Navarro steadily slays all the D'Ysquiths between him and his inheritance, A Gentleman's Guide to Love and Murder has steadily taken on every challenger this awards season.
Nominees:
After Midnight; Aladdin; Beautiful: The Carole King Musical; A Gentleman's Guide to Love and Murder
This is another race that was over virtually before it began. If any show besides
A Gentleman's Guide to Love and Murder
wins this award on Sunday, it will be the biggest shock since
Avenue Q
toppled the mighty
Wicked
ten years ago.
That is not to imply that the other nominees aren't worthy.
After Midnight
will be penalized by Tony voters for being "just" a revue rather than book musical, but it is a lovingly rendered and highly entertaining revue that features the most talented group of music makers on Broadway (both the singers and the fantastic jazz band). I personally loved
Aladdin

, as did many others. In my opinion it is the most successful Disney stage adaptation yet, at least when it comes to incorporating new material in with the pre-existing songs and plot (the added material in Disney benchmark
The Lion King
has always felt tacked on to me). But other people felt that the slick presentation took away from the emotional heart of the piece, and that keeps it from being a real contender for the Best Musical prize.
The only show that poses any sort of threat to
Gentleman's Guide
is
Beautiful,
the modest musical about the life of singer/songwriter Carole King which has been steadily winning converts since it premiered in January.
Beautiful
has proven to be a reliable box office draw, something that is very important to the out-of-town voters who would prefer to give the Tony to something that will tour well. But the Broadway theatrical community has gotten pretty sick of jukebox musicals, especially ones that so clearly ape the formula that made
Jersey Boys
a success. It would be almost hypocritical for the people who complain so loudly about the lack of originality in musicals to pass over
Gentleman's Guide
in favor of
Beautiful,
no matter how much they may like Jessie Mueller as Carole King. Plus,
Gentleman's Guide's
modernization of the Gilbert and Sullivan blueprint feels positively refreshing in the current Broadway landscape, reminding everyone just how much fun an old-fashioned musical farce can be.
Will and Should Win:
A Gentleman's Guide to Love and Murder
And that brings me to the end of my Tony predictions for 2014! We'll find out how right (or wrong) I was on Sunday night, and until then you can review all of my predictions and commentary below.
2014 Tony Nominations React
Best Direction and Choreography
Best Book and Score
Best Featured Actor
Best Featured Actress
Best Actor
Best Actress
Best Revival