Review: Much Ado About Nothing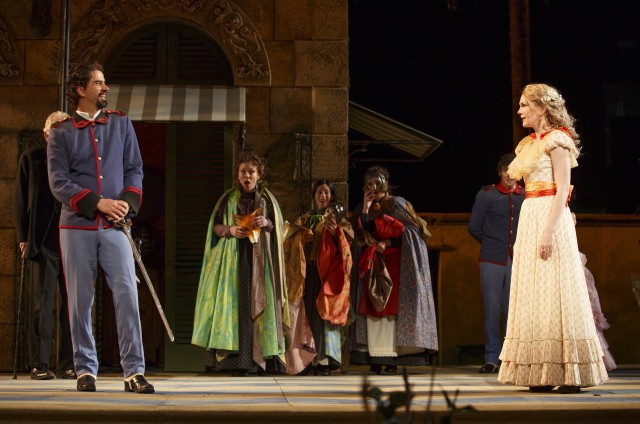 Oh Benedict (Hamish Linklater), that sword is no match for Beatrice's (Lily Rabe) sharp tongue.
When discussing the merits of Shakespeare's various comedies, the ubiquitous
Twelfth Night
is generally agreed upon to be the best, a distinction I've always found puzzling for a play that is typically only haphazardly funny (the recent top-tier Broadway revival
notwithstanding
). For my money, the acerbic wit of
Much Ado About Nothing
is a much more consistent generator of laughs, while also exploring one of the most complex romantic relationships in all of the Bard's cannon. The side-splittingly hilarious and immensely satisfying Shakespeare in the Park production currently playing the Delacorte Theatre makes a strong case for
Much Ado's
merits, and provides the summer tradition with its strongest showing since the Al Pacino-led
Merchant of Venice
several seasons ago.
At the heart of
Much Ado About Nothing's
plot are the dueling, would-be lovers Beatrice and Benedict, self-professed bachelors who enjoy nothing more than using their razor-sharp wits to devise ever more creative insults for one another. As a lark, the pair's friends decide to trick them into becoming an item by convincing each one that the other is secretly in love with them. This well-intentioned scheme plays out during the group's extended stay at nobleman Leonato's Italian villa, while the young soldier Claudio prepares to woo and wed Leonato's daughter Hero. The festivities threaten to grind to a halt when prince Don Pedro's bastard brother, Don John, decides to spread false rumors about Hero's fidelity, providing the play with some high drama to counterbalance all the laughs.
Much Ado
ultimately lives or dies by the strength of its Beatrice and Benedict, here played by Shakespeare in the Park stalwarts Lily Rabe and Hamish Linklater. Both are sensational in their respective roles, mining these iconic characters for all of their depth and comedic potential. Rabe, Tony-nominated for her role in the aforementioned
Merchant
when it transferred to Broadway, is giving another award-worthy performance as the wickedly funny Beatrice. Rarely has Shakespeare sounded as elegant and natural as it does when Rabe performs it, with the versatile actress proving once again that she is one of our greatest living classical performers. Rabe also displays a searing emotional honesty during the play's more dramatic sections, and her chemistry with Linklater is palpable.
As Benedict, Linklater doesn't possess the same precision as his costar, opting for a looser and more contemporary portrayal. This difference in style in no way diminishes Linklater's effectiveness, and line for line the malleable actor gets the most laughs of anyone in the cast. A rubber-limbed clown, Linklater is especially winning during his many bouts of physical comedy, and watching him clumsily eavesdrop on his companions from the limbs of an orange tree is one of the evening's best sustained laughs. Yet Linklater also knows when to dial down his antics for the play's more somber moments, and he leaves no doubt that ultimately, Benedict and Beatrice both love and are meant for one another.
Rabe and Linklater are surrounded by a stellar group of supporting actors that make this
Much Ado
a glowing example of ensemble acting. Ismenia Mendes and Jack Cutmore-Scott are appropriately naïve is the young lovers Hero and Claudio, respectively, with Mendes in particular showcasing great depth during her character's public shaming. John Glover is pitch perfect as Leonato, turning a largely expository role into a fully fleshed out character and one of the evening's standout performances. Brian Stokes Mitchell, a Tony-winner known for his work in musicals like
Ragtime
and
Kiss Me, Kate,
reminds everyone just what a fantastic actor he is as the princely Don Pedro, Benedict's commanding officer. (Not one to look a gift horse in the mouth, the production does provide Mitchell the chance to show off his legendary baritone in a first-rate musical interlude composed by Tony-nominee David Yazbek, who wrote all the production's delightful incidental music.) And
Game of Thrones'
Pedro Pascal is suitably slimy as Don John, even though the character is one of Shakespeare's most underwritten villains.
The ringleader of these merry players is director Jack O'Brien, who despite a prolific career that encompasses almost every style of theatre imaginable is making his Shakespeare in the Park directing debut. Put simply, O'Brien nails it, keeping the laughs coming fast and often but expertly shifting gears to a more serious tone when necessary. O'Brien's fluid staging makes great use of John Lee Beatty's gorgeous two-story set, and the Tony-winning director adds just enough physical comedy to be punch up the laughs without distracting from the beauty of Shakespeare's language. Despite the play's nearly three-hour runtime O'Brien never lets the energy start to drag, expertly juggling the multiple tones and plotlines with the assured hand of an old pro.
O'Brien has also succeeded in the all-too-rare feat of updating the setting (in this case, moving the action to early 1900s Sicily) in a way that feels both natural and necessary. Aided by stunning design work from the aforementioned Beatty and costumer Jane Greenwood, O'Brien makes the Italian milieu its own character which enhances rather than detracts from the action. From the preshow stage business (charmingly executed in Italian) to a gorgeous masquerade to a thrilling second act storm sequence (vastly aided by Jeff Croiter's lights and ACME Sound Partners' sound design), O'Brien and his team transport us from Central Park to the Italian countryside.
Without a marquee star like Pacino, there's little chance this production transfers to Broadway, although it's certainly strong enough to survive on the Great White Way. This
Much Ado
is a shimmering production of one of the Bard's finest comedies, headlined by two of the city's most accomplished Shakespearean actors. Rabe and Linklater are as good a Beatrice and Benedict as you're likely to find, and the talent surrounding them is just as astounding. Thanks to Jack O'Brien's nimble direction, this effervescent outdoor production proves to be a highlight of Shakespeare in the Park's recent history.
Much Ado About Nothing
only runs until July 6th, so brave the lines and snag your free tickets before these unlikely lovers dance off into the sunset.