Continuing my Tony predictions for the 2013-2014 Broadway season, it's time to turn my eye towards the writing of this season's musicals. Since musicals are a collaborative art form, they are arguably harder (and definitely take longer) to write than a regular play, and there are a lot more places where something can go wrong. It is also possible for elements of a show to succeed while the production as a whole doesn't, which is why this year's Best Book and Best Score categories aren't just copies of the Best Musical nominees. So which shows will win the Book and Score Tonys on June 8th, and are they the same as the shows that deserve to win? Find out below!
Best Book of a Musical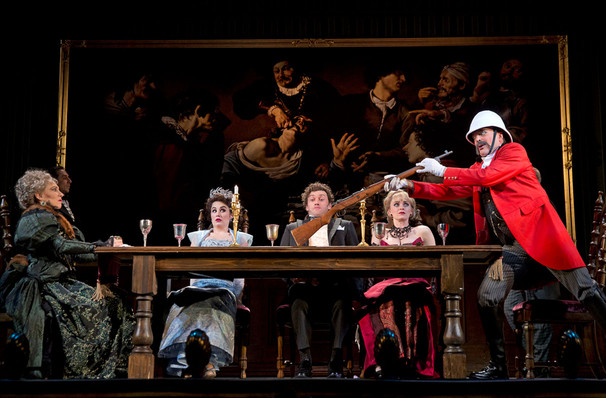 Jefferson Mays gets a lot of credit for his 8 scenery chewing characters in A Gentleman's Guide to Love and Murder, but bookwriter Robert L. Freedman gave him some great material to work with.
Nominees:
Woody Allen,
Bullets Over Broadway;
Chad Beguelin,
Aladdin;
Robert L. Freedman,
A Gentleman's Guide to Love and Murder;
Douglas McGrath,
Beautiful: The Carole King Musical
It's very hard to imagine a scenario where
A Gentleman's Guide to Love and Murder's
Robert. L. Freedman doesn't win this category.
Gentleman
has the most Tony nominations of any show this year, clearly illustrating the Tony committee's fondness for the musical farce. And since
Gentleman's Guide
doesn't really have any production numbers or marquee value stars, that love is entirely based on the show's witty, tightly paced writing. Like most musical comedies, the destination isn't all that interesting (or even all that clear), but the journey there is filled with smart dialogue and characters that walk fine line between being large enough to elicit laughs and believable enough for the audience to invest in.
Given the ambivalence towards
Bullets Over Broadway,
I doubt Oscar-winner Woody Allen is much of a contender here (and whether true or not, the recent child molestation scandal will surely deter a few voters from supporting him). The book of
Beautiful
was generally the most derided aspect of that show in critical reviews, and although I think Chad Beguelin did a better job than previous Disney musicals of incorporating new elements into the existing material,
Aladdin's
charms lie mostly in its musical numbers. This one is deservedly Freedman's to lose.
Will and Should Win:
Robert L. Freedman,
A Gentleman's Guide to Love and Murder
Jason Robert Brown turned The Bridges of Madison County from a trashy, critically derided novel into a legitimate work of art. That should be worth a couple of Tony Awards on its own.
Nominees:
Alan Menken, Howard Ashman, Tim Rice and Chad Beguelin,
Aladdin;
Jason Robert Brown,
The Bridges of Madison County;
Steven Lutvak and Robert L. Freedman,
A Gentleman's Guide to Love and Murder;
Tom Kitt and Brian Yorkey,
If/Then
This category is so lopsided it isn't even a race; it's just a formality between Jason Robert Brown and his second Best Score Tony. The music for
The Bridges of Madison County
is one of the greatest examples of sustained artistic excellent in the past decade, gloriously sung by two of the most gifted vocalists working on Broadway today. Epically grand and breathtakingly gorgeous, the score is packed to the gills with songs that stop the show with their sheer beauty (the picturesque yet mournful opening "To Build a Home," the folksy "Another Life," Kelli O'Hara's Act II stunner "Almost Real," and the climactic duet "One Second and a Million Miles"). Even the show's detractors were forced to admit that Brown's score is a masterwork, easily the best thing this gifted composer has ever written.
The only team with even the slightest possibility of scoring an upset is
A Gentleman's Guide to Love and Murder's
Steven Lutvak and Robert L. Freedman. Their Gilbert-and-Sullivan-esque score has more melodic invention than is apparent on first listen, and their deft lyrics are overflowing with wit and a decidedly cheeky sense of humor. But this isn't a
Wicked/Avenue Q
situation, where the latter's consistently clever score surprisingly beat out the former's uneven mix of modern classics ("Popular," "Defying Gravity") and inert clunkers (anything involving the Wizard).
Bridges
is fantastic from end to end, and will rightly win the Tony Award for its sustained excellence.
Will and Should Win:
Jason Robert Brown,
The Bridges of Madison County
Keep checking back throughout the next two weeks for more Tony predictions and commentary! And catch up on any coverage you may have missed by checking out the following:
2014 Tony Nominations React
Best Direction and Choreography