I cannot speak for the rest of the country, but New York remains in the midst of a seemingly unending winter (and that damn groundhog thinks we have six more weeks of it left). Broadway is deep in its winter doldrums too, with most of the splashy spring shows still in rehearsals before previews begin. Which means that now is the perfect time to start handicapping this fall's productions for the upcoming Tony Awards! You may think it's early, and it is, but what else are we going to talk about? I've already given my thoughts on the
productions
and
lead performances
I consider well-positioned to score an eventual Tony nod, so now it's time to turn my same skills of unsubstantiated guesswork toward the featured performances.
For those who didn't read my last two posts, the rules for getting mentioned here are simple: the actor/actress must have made a major impression on the New York theatrical community. As we have a whole slew of shows set to open during the spring, the only way any fall performance will be able to break into the crowded Featured Actor/Actress categories is via a universally praised turned. As such, there are very few sure things in these categories, but that's not going to stop me from trying to pick the most likely nominees.
WARNING: Occasional snark and wild speculation to follow.
Best Featured Actor in a Musical
Of all Jefferson Mays' deliriously daffy characters in Gentleman's Guide, the racially insensitive Lady Hyacinth is easily my favorite.
A Gentleman's Guide to Love and Murder's
Jefferson Mays is guaranteed one of the five slots in this category for his bravura turn as all eight members of the doomed D'Ysquith clan. I'm a little surprised he wasn't upgraded to Lead Actor status, although I agree this category is where his roles, however showy, belong. More confounding is the Tony committee's decision to consider his extremely talented costar Bryce Pinkham eligible in the same category despite the fact that Pinkham's upwardly mobile Monty Navarro forms the lynchpin of the entire evening. I'm really hoping that Pinkham, who I found to be a sensational straight man and one of the purest tenors currently singing on Broadway, also scores a nomination for his work, but if the spring musicals are particularly strong he could find himself shut out by the flashier Mays. And depending on how many fans
Big Fish
has on the Tony nominating committee, Bobby Steggert may find himself among the nominees as well. Even that show's biggest detractors generally considered it to be well-acted, although I personally found Steggert to be the least memorable of the show's main trio.
Best Featured Actor in a Play
Game, set, and match, gentleman. Mark Rylance's Olivia in Twelfth Night is quite possibly the performance of the season, and it's only February.
They might as well just go ahead and engrave this Tony with Mark Rylance's name, because he is going to win it. Rylance's Olivia in the all-male
Twelfth Night
is the buzziest performance of the season thus far, and rightfully so. He took the role in unexpectedly hilarious directions, downplaying the character's normal refinement and making her an overgrown child prone to hysterical tantrums. Not only was this a new interpretation, but one that was fully supported by the text and went a long way towards making this the funniest production of
Twelfth Night
I have ever seen. I also wouldn't be surprised to see any of Rylance's costars nominated in this category (I was particularly impressed by Paul Chahidi's Maria), but Rylance is the man to beat. Among the fall's other offerings, I think
The Glass Menagerie's
Brian J. Smith stands as good a shot as any Gentleman Caller ever has of being recognized, and I think that much ballyhooed production is well positioned to perform the hat trick of getting a nomination in each of the four acting categories (although Smith is probably most in danger of being shut out).
Best Featured Actress in a Musical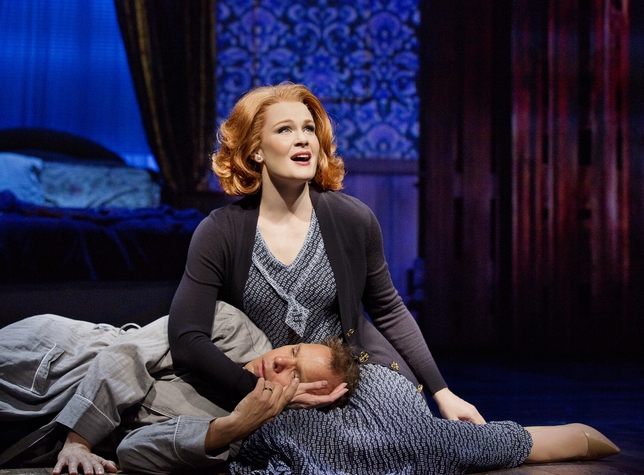 "Long suffering wife" is a sure road to awards contention, and Kate Baldwin played it with unusual depth and sincerity. (Bonus: her slow-motion dance during "Time Stops" was one of the most beautifully simply staging moments of the season.)
I'm rooting for
Big Fish's
Kate Baldwin to get some recognition for her sterling work in that production, her first Broadway outing since her star-making turn in
Finian's Rainbow
four years ago. I think the fact that she was deemed a Featured Actress rather than a Lead actual works in her favor, as it keeps her out of the hotly contested Best Actress race. I also think there is a good chance one of the lovely ladies from
Gentleman's Guide
joins her on the red carpet, although whether that is Lisa O'Hare or Lauren Worsham remains a toss-up at this point. In fact, I would *love* it if both women wound up nominated, as that show and particularly it's second act wouldn't be nearly as good without them. If I had to pick one, I would go with O'Hare, as her Sibella is a little more complex and fun that Worsham's doe-eyed and superbly sung Phoebe. But Worsham is one of the most winsome and interesting ingénues of the past several seasons, which only reinforces my wish for both of them to score nominations.
Best Featured Actress in a Play

Celia Keenan-Bolger rose to fame in a couple of high profile musical roles, but it's her critically acclaimed turn as Laura in The Glass Menagerie that may finally bring this talented actress Tony gold.
As I've stated before, I expect this latest revival for
The Glass Menagerie
to do very well come Tony time despite my personal dislike of it. I think Celia Keenan-Bolger is a sure thing for a nomination, and depending on how the spring season goes the twice-nominated actress may actually win her first award. In fact, as of right now, she's the only actress I think is in serious contention for this award, as the fall plays were particularly male-heavy, what with the two all-male Shakespeares and the Pinter/Beckett rep plays starring four male actors each.
And that concludes my semi-annual Tony rant. There are a lot of shows opening in the next few months, and I hope to see a good number of them so that I can provide you all with reviews. Look for more Tony talk from me closer to the announcement of the nominees on April 29th, after which point I will likely be unable to talk about anything else until the awards are handed out on June 8th.