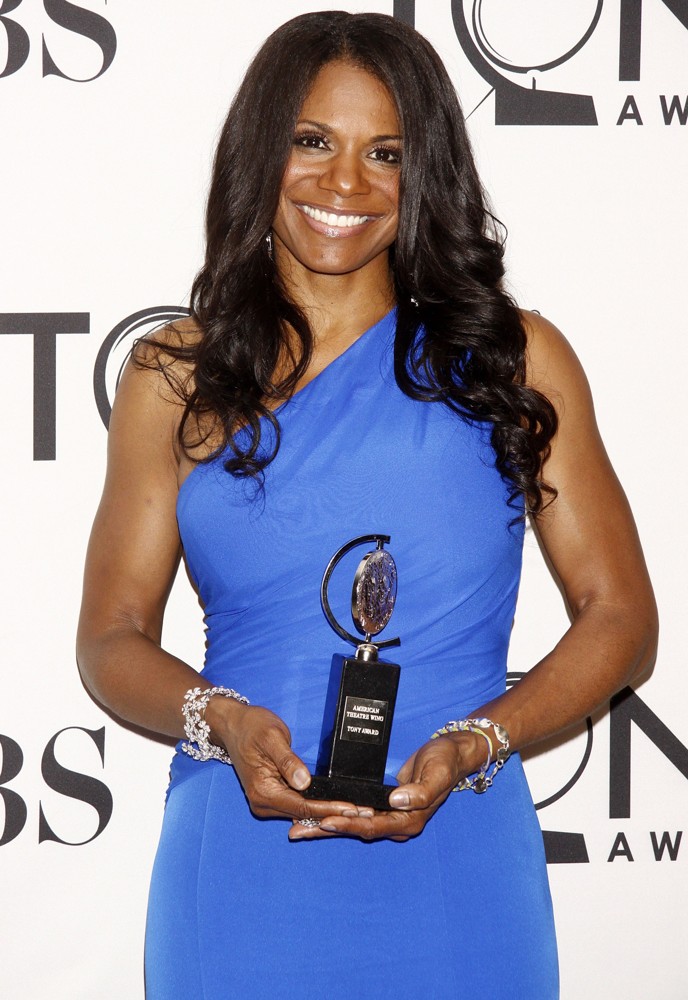 Rumor has it Audra McDonald has added an extra room to her Manhattan home; my guess is its to house all her Tony Awards.
As soon as
Bronx Bombers
announced it's closing date last week, rumors began circulating that the Circle in the Square Theatre would be the site of a sooner-than-expected Broadway return for 5-time Tony winner and all around theatrical goddess Audra McDonald. Now those rumors are
official
, and this year's Tony race just got even more interesting.
One of the most gifted actresses to ever grace the Broadway stage, McDonald is tied with Angela Lansbury as the most decorated performer in Tony history. Even more impressive is the fact that with the exception of the 2003 revival of
Henry IV,
McDonald has been nominated for every single one of her previous Broadway appearances. Considering the theatrical community's overwhelming love of her, and her even more overwhelming talent, conventional wisdom states that if McDonald sets foot on a Broadway stage, she *will* get a Tony nomination. Considering that her latest project,
Lady Day at Emerson's Bar and Grill,
is a one-woman show with nothing to distract from the luminous and golden voiced McDonald, I see no reason why this year would be the year that trend changes. The only question is, which performers'
Tony dreams
did she just make more difficult with her late in the game Broadway appearance?
Given that McDonald's chosen vehicle contains 18 songs made famous by the legendary jazz singer Billie Holiday, the immediate assumption is that this would throw McDonald into the already crowded Best Actress in a Musical race. This is a race that already includes all but assured nominations for previous Tony winners Sutton Foster and Idina Menzel, previous nominee Jessie Mueller, and perpetual Tony bridesmaid Kelli O'Hara (will someone please give this woman a Tony already??). At this point, the one wild card spot is most likely to go to either Marin Mazzie - presuming she isn't deemed a supporting player in
Bullets Over Broadway
- or Michelle Williams, presuming Roundabout's remounting of their Tony-winning
Cabaret
is deemed eligible for awards consideration. At this point, it's pretty obvious that someone, likely a very deserving someone, is going to get left out, and I don't think it will be McDonald.
However, as the Broadway.com article linked to above points out,
Lady Day
is traditionally billed as a "play with music." Don't ask me how a show with 18 musical numbers gets considered a play; Tony eligibility rulings can be somewhat arbitrary, such as in 2004 when McDonald was deemed a supporting player in
A Raisin in the Sun
despite having just as much stage time and importance to the narrative as her costar Phylicia Rashad (the upside of that distinction is that it allowed both women to take home Tony Awards that year). Should
Lady Day
be considered a play, McDonald becomes a major roadblock between Cherry Jones and her presumptive 3rd Tony Award, and road which already faces potentially stiff competition from Tyne Daly. Fun fact: should McDonald win Best Actress in a Play, she will have won a Tony in all four categories in which a female performer is eligible.
Personally, as much as the classification may seem questionable, I hope
Lady Day
is indeed ruled a play and keeps McDonald out of the super crowded Best Actress in the Musical race. It is already going to be hard enough for the long overdue O'Hara to finally win Tony gold without having to also contend with one of the greatest stage actresses of all time. Also, I should point out that while anything is possible at this point, I don't actually expect McDonald to win whichever race she ends up competing in. I think it is much more likely that McDonald wins her record-breaking sixth Tony Award should the
rumored revival
of
'night, Mother
come to fruition. Or, as I like to dream about, when Stephen Sondheim comes out of retirement and writes one final show for McDonald's singular talent, a hypothetical show which I would pay any amount of money to see.
However awards season shakes down, the big news of the day is that Audra McDonald is coming back to Broadway! She is one of the greatest talents the New York stage has ever known, which is not something I say lightly, and we should all thank our lucky stars any and every time we are offered the chance to see her perform.