As New York suffers through another cold snap, Broadway is in that odd no man's land between the high-minded fall openings and the more broadly appealing spring fare. Since very few shows open during the months of January and February, now seems as good a time as any to look back on the season so far and begin one of my favorite games: handicapping the Tony Awards!!! In my
last post
, I discussed which fall shows I thought had a shot at nominations in the production categories; now it's time to give the same treatment to the leading actor and actress races. As with my previous predictions, only those who have made a major impression on critics and audiences can be considered contenders at this point. Tony voters have notoriously short memories, and a flashy spring performance has a good chance of supplanting all but the most well-loved fall turns.
WARNING: Occasional snark and lots of speculation to follow.
Best Actor in a Musical
Will two-time Tony-winner Norbert Leo Butz become a three-time Tony-winner for his work in Big Fish? I don't know, but I'd put money on at least a nomination.
Despite the critical indifference to his chosen vehicle, I think
Big Fish's
Norbert Leo Butz is about as close to a sure thing in this category as it gets. The two-time Tony-winner gave a tour de force performance as Edward Bloom and was universally praised for it. Interestingly enough, it appears the Tony administration committee has ruled that both Jefferson Mays and Bryce Pinkham are Featured Actors rather than leads (the roles are of equal size, but in the recent past that has resulted in both actors being considered leads a la
Kinky Boots
or
The Book of Mormon
). Otherwise I'd be positive one if not both of them would be nominated, since as far as I'm concerned they've both earned it. I'd like to say there was a chance for
Soul Doctor's
Eric Anderson to be nominated, as he dedicated years of his life to workshopping and performing that show, but let's face it: there's no way in hell
Soul Doctor
gets nominated for anything.
Best Actor in a Play
His Glass Menagerie character may be a petulant, unfulfilled whiner, but Zachary Quinto will likely have plenty to celebrate when the Tony nominations are announced.
The fact the Tony voters have chosen to count this fall's repertory plays as four separate productions makes this category a major wild card. I think it's more a question of what certain performers will be nominated for rather than if they will be nominated. The category's surest bet is Zachary Quinto, who's work in
The Glass Menagerie
scored the kind of reviews most actors only dream about for their Broadway debuts. And the person with the best chance of a double nomination is two-time Tony-winner Mark Rylance, who could find himself among the Best Actor nominees for
Richard III
(he's considered featured for his much-buzzed about Olivia in
Twelfth Night
).
I can't decide if Patrick Stewart and Ian McKellan will find themselves nominated against each other, if only one for the venerated thespians will make the cut, or if the pair of them (and their double eligibility for
Waiting for Godot
and
No Man's Land)
will split votes enough that both get shut out. It all depends on the strength of this spring's offerings; I imagine there's already a spot reserved for Denzel Washington, unless he totally ruins
A Raison in the Sun
. Previous winner Roger Rees got excellent reviews for his work in
The Winslow Boy,
but I think the play will be too long closed to have any real traction with the nominations committee. I'm also not ready to rule out the possibility of the incredibly solid Samuel Barnett scoring a surprise nod for his sterling Viola in
Twelfth Night,
or that Daniel Craig's sheer star wattage and box office drawing power nets him a nomination for
Betrayal
(though for the record, I think the former is far more likely than the latter).
Best Actress in a Musical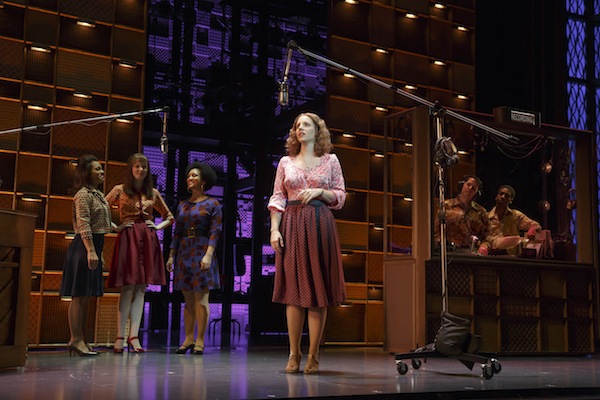 Hopefully Jessie Mueller will get to wear something a little more glamorous come Tony night.
The list of actresses headlining musicals this spring is a veritable who's who of musical theatre royalty (Sutton Foster, Idina Menzel, Kelli O'Hara, Marin Mazzie). This and the Best Actor in a Play category are easily going to be the most competitive races of the season. That said, I think fast-rising star Jessie Mueller stands as good a chance as anyone of breaking into this highly competitive race for her universally praised performance as Carole King in
Beautiful.
Regardless of what they thought of the material, every reviewer sang Mueller's praises, with many citing her as the production's biggest draw. And should one of the afore-mentioned ladies really blow it (unlikely, but possible) AND Oscar-nominee Michelle Williams either be ruled ineligible or just plain bad in
Cabaret,
there's a slight chance Mary Bridget Davies sneaks into this category for her dead on Janis Joplin in the concert musical bearing the departed singer's name.
Best Actress in a Play
I have no Doubt Cherry Jones will find herself among this year's Best Actress nominees for The Glass Menagerie (You see what I did there?)
It's awfully early to be predicting actual Tony winners, but I would say this award is currently Cherry Jones' to lose. I personally hated what director John Tiffany did to
The Glass Menagerie,
but even I will admit that Jones makes a strong Amanda (and would have been an excellent one under better direction). Given how over the moon critics are about the production, she is a sure thing for a nomination. Other than Jones, the relatively small number of women in plays this fall increases Rebecca Hall's chances of being recognized for her work in Roundabout's widely-praised
Machinal.
There aren't a ton of female-heavy plays on the schedule for the spring, but there are probably enough leading actresses (including theatre favorites Tyne Daly and Estelle Parsons) to keep Debra Messing's liked but not loved performance in
Outside Mullingar
from being nominated.
That's my take on the leading actor/actress races. Keep an eye out for my thoughts on the supporting categories (always tricky to predict due to the sheer volume of eligible performances) in the coming week.