Here we are at the end of the acting categories.
Before I start making Best Actor predictions, I want to remind you of my two caveats:
1) I have not necessarily seen all of the nominees; and 2) I am prediction who
will win,
which is not always the same as who
should win.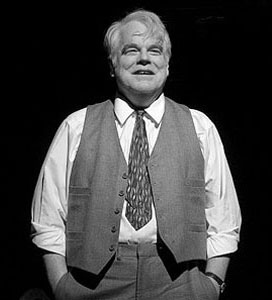 Nominees:
James Corden,
One Man, Two Guvnors;
Phillip Seymour Hoffman,
Death of a Salesman;
James Earl Jones,
The Best Man;
Frank Langella,
Man and Boy;
John Lithgow,
The Columnist
I don't mean to sound disrespectful of their work, but as far as this season is concerned past winners James Earl Jones, Frank Langella, and John Lithgow are essentially also-rans in a two person Tony race.
Jones received solid reviews for his work in
The Best Man,
but that show is more of an ensemble piece than a star vehicle, and having a star vehicle is a virtual prerequisite to winning the Best Actor trophy.
Langella's
Man and Boy
definitely qualifies as a star vehicle, but outside of his performance the production was dismissed by critics.
It also closed by mid-October and hasn't been discussed since, leaving Langella without the necessary momentum needed to secure a Tony statuette.
John Lithgow is in a better position than either Jones or Langella, in that
The Columnist
is a currently-running star vehicle from a well-respected author.
Unfortunately, the deluge of late-April openings resulted in
The Columnist
getting lost in the shuffle, and many found the play to be serviceable but disappointing given the talent involved (Lithgow is a past Tony winner, and playwright David Auburn is a Tony and Pulitzer Prize winner).
That leaves us with James Corden and Phillip Seymour Hoffman, both of whom have a lot going in their favor.
One Man, Two Guvnors
seems to be this season's British Sensation, the imported new play that has critics practically falling over themselves to praise it.
Corden himself has received plenty of accolades his physically demanding performance, and recent Tony history shows a strong voter bias toward English-bred actors.
However, that same history also shows a bias towards big name Hollywood talent in revivals of classic plays, which perfectly describes Hoffman.
Death of a Salesman
is one of the most critically and commercially successful productions of the season, something that couldn't have been achieved without a commanding central performance.
While I haven't personally seen Corden, I have trouble imagining him topping Hoffman's devastating turn in Arthur Miller's classic, and I suspect Tony voters will feel the same way.
Will and Should Win:
Phillip Seymour Hoffman,
Death of a Salesman
Unlike their play counterparts, the Best Actor in a Musical nominees are much more evenly matched.
There isn't a clear-cut front runner, and an argument could be made for any of these fine actors to win the big prize. All of that said, I think we can safely rule out both Norm Lewis and Rob Raines.
I have always felt Lewis' abilities as an actor have been underrated, and I'm happy to see him receive his first Tony nomination for his accomplished work in
Porgy and Bess.
That said, his is by no means the strongest performance of the bunch, and he's greatly overshadowed by costar Audra McDonald, who from day one has been at the center of all that particular revival's press coverage.
Similarly, while Rob Raines did some excellent work in
Follies,
it did not reach the giddy heights of his costar and fellow nominee Danny Burstein.
Unlike last year, when Andrew Rannells and Josh Gad were so equally matched in
The Book of Mormon
that they effectively canceled one another out, popular opinion has clearly favored Burstein over Raines.
Anyone who wants to see a
Follies
win in this category will certainly vote for Burstein.
Jeremy Jordan is technically nominated for
Newsies,
but I think it's safe to assume his is a blanket nomination for both that show and his work earlier this season as one of the title characters in
Bonnie & Clyde.
Jordan is the hot young talent of the season, and though his work in
Newsies
isn't as psychologically complex or emotionally mature as his competition, it is everything you could reasonably expect in a lighthearted show whose sole purpose is to entertain.
The road producers who usually vote for more commercially viable fare will want to ensure
Newsies
ends up with enough wins to sound impressive in an ad campaign, and Jordan could easily reap the benefits of their Tony love.
Steve Kazee is something of a wildcard.
On the one hand, he is giving a very moving performance in the most critically lauded new musical of the season, and the buzz around
Once
certainly isn't hurting his chances.
On the other, for whatever reason the critical love of
Once
doesn't quite extend into recognition for its cast (Kazee and costar Cristin Milioti were both conspicuously absent from the Drama Desk nominee list).
Because it is a new work and not a known property, I think some people are overlooking how much of the show's success is due to its leads, instead of being wholly generated by the very strong book and score.
I'd say the two gentlemen most likely to hear their name called on Tony night are Danny Burstein and Jeremy Jordan. Burstein deserves the award for his revelatory and heart-breaking performance in
Follies
, a production the entire theatrical community went gaga over last fall and will certainly want to see recognized.
Burstein's role is the hardest of the show's central quartet to make interesting, making it all the more impressive that he ended up being one of the best parts of that much celebrated production. But Jeremy Jordan has had a star-is-born season, and the Tonys love to celebrate talented newcomers as much as seasoned pros. As much as I loved Burstein (I've been saying he needs to win this award since September), I am starting to suspect that this is Jordan's year.
Will Win:
Jeremy Jordan,
Newsies
Should Win:
Danny Burstein,
Follies
That's all for the acting awards.
The only predictions I have left to make are the production categories, so look for my picks for the season's best revivals soon!
In the meantime, here are the rest of my Tony prediction articles in case you missed them:
Best Featured Actor
Best Featured Actress
Best Book and Score
Best Direction and Choreography