Best of 2012
#9 – The Mystery of Edwin Drood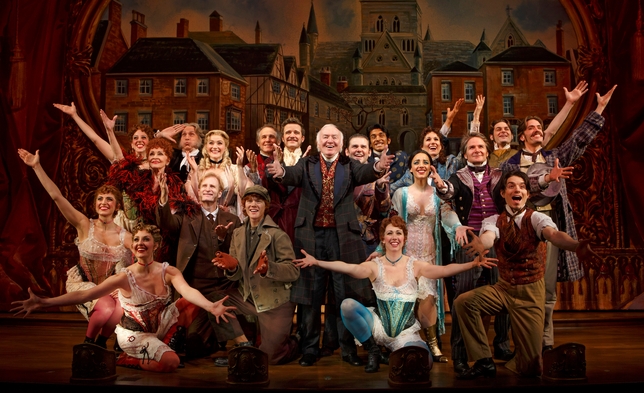 Damned if there you are!
I firmly believe that Rupert Holmes'
The Mystery of Edwin Drood
is one of the worst musicals ever written.
Based on Charles Dickens' unfinished last novel, the show is two hours of uninteresting exposition and merely passable songs that mark time until we reach the musical's central gimmick, which is letting the audience vote on the mystery's solution and thereby choose the show's ending.
The nearly incomprehensible "plot" and exceedingly shallow characters require a top-notch production to mask their many deficiencies and make the show even vaguely tolerable.
Thankfully, the Roundabout Theatre Company's current Broadway revival is a top-notch production.
Filled to the brim with outstanding performances, the talent involved elevates
Drood
into a musical confection that's still devoid of meaning but so much fun you hardly care.
Stephanie J. Block has found the perfect vehicle for her many talents, with her turn as the title character equally highlighting her skills as a musical comedienne and her nearly unmatched vocal prowess.
In any other show, a performance of Block's caliber would make her the unequivocal star, but this production features so many outstanding supporting turns that Block is but one jewel in a musical crown.
Rising star Jessie Mueller demonstrates remarkable range as the fiery Helena Landless, proving just as entrancing here as she was playing the ingénue Cinderella in this summer's
Into the Woods.
As the musical's master of ceremonies, Jim Norton turns what could be a rather bland role into one of the year's great comedic performances, hamming things up with delightful abandon.
Will Chase chews the scenery with infectious, giddy delight as the musical's villain, and as the object of his lascivious desires Betsy Wolfe is a dream.
The show also boasts Chita Rivera's return to the Broadway stage after a six year absence, and this living legend proves that she's still got it.
The sets and costumes are just as impressive as the starry cast, with William Ivey Long's gorgeous Victorian outfits a particular standout sure to net the designer his umpteenth Tony nomination.
Roundabout's Broadway productions have been hit or miss in recent seasons, but
The Mystery of Edwin Drood
is a definite hit.
The not-for-profit has given this musical a far better production than it deserves, and those high standards have resulted in one of the most entertaining musicals of the year.
Anyone looking for a carefree night of bawdy jokes and hammy performances will absolutely adore
Drood,
and even the most ardent Scrooges in the audience won't be able to resist cracking a smile or two.
For my full review of
The Mystery of Edwin Drood,
click
here
.