Best of 2012
#8 – Annie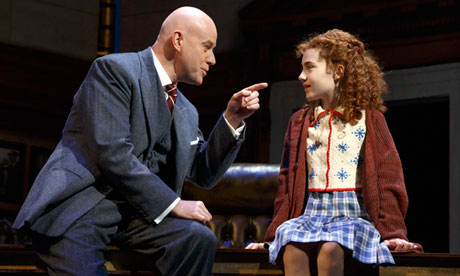 Anthony Warlow and Lilla Crawford are the two stellar stars of James Lapine's handome new Annie.
When it first opened on Broadway in the spring of 1977,
Annie
received near-universal acclaim and became so prolific that even people with zero interest in musical theatre knew it by name.
The show about the little orphan with the big heart
has since become synonymous with the sun-drenched optimism that typifies classic musical comedies, and in an increasingly cynical world that earnestness has made it a subject of scorn and derision.
It's easy to forget that behind that relentlessly positive outlook lies a solidly constructed tuner just waiting for the right production to reveal its multitude of charms.
James Lapine's splashy revival is just such a production, shedding the decades of baggage and expectation
Annie
brings with it to emerge as one of the year's freshest pieces of escapist entertainment.
By focusing on the text and the truth of the show's world, Lapine and his actors have reached a level of earnestness that makes the many songs about hope and positivity feel both genuine and necessary.
The show's version of Depression-era New York is unabashedly naïve, but that viewpoint is wholly appropriate to the musical's child protagonist and its message about the value of looking on the bright side of life.
Lapine has found an extremely talented group of young women to embody Annie and her orphan pals, and their unbridled enthusiasm proves to be infectious and one of the show's strongest assets.
In a performance sure to result in a Tony nomination, Anthony Warlow's Daddy Warbucks is sublime perfection, with his growing fondness for Annie creating some unexpectedly moving moments.
Two-time Tony-winner Katie Finneran may not be doing her best work as the villainous Miss Hannigan (and the show does suffer because of it), but the comedic actress brings plenty of raucous energy and a particular gift for physical comedy to the scene-stealing role.
Annie's
family friendly nature ensures it will be many children's first exposure to the wonders of live theatre, and from the opening chords of the overture until the final curtain young audiences are sure to be utterly enchanted.
But fun has no age limit, and anyone who remembers (or would like to remember) the joy and limitless possibilities of youth will find plenty to appreciate in this handsome staging.
Here's hoping that this
Annie
has many, many tomorrows in its future.
For my full review of
Annie,
click
here
.