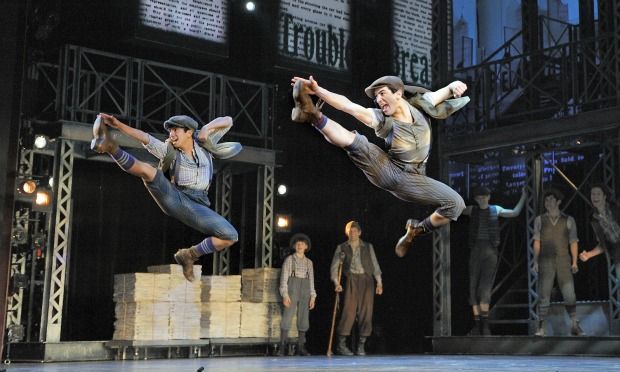 Broadway's Newsies prepared to karate kick the competition, thus ensuring it's place as King of New York
With only one week left before Tony nominations come out, we have to move right along with our assessment of this season's shows.
First up:
Newsies
Disney claims that it never intended to bring
Newsies
to Broadway, and that they are just blown away by the support their show has received.
I think that's bullshit, and is part of their clever plan to position the show as this season's Tony underdog when it is actually the odds-on favorite.
After all, the show has all the hallmarks of a Best Musical winner (a category it will assuredly be nominated in).
It's an old-fashioned song and dance spectacle with just enough depth to keep adults engaged while omitting anything truly challenging or unpleasant, making it perfect family fare.
The Tony voters who are also producers of regional touring houses – a sizeable contingent of the total voting body – will want to capitalize on this appeal by awarding the show with as many statuettes as possible, allowing them to advertise the eventual tour as the "Tony-winning Broadway musical" and ensuring that it makes them a boatload of money.
If
Once
is this year's Critics' Darling,
Newsies
is the clear Commercial Success, which more often than not wins the big awards.
And while
Newsies
is in no way groundbreaking, it is constructed with enough competence to net Best Book and Best Score nominations among this year's weak crop of new shows.
Christopher Gattelli's athletic choreography, the production's highlight, will surely be nominated and heavily featured during the show's Tony telecast performance.
Another likely nominee is Tobin Ost's for his multi-tiered set, inventively configured into an endless array of interconnected platforms and stairways over the course of the show.
The acting categories will be tougher for
Newsies
to crack, with one notable exception, whose name is Jeremy Jordan.
As newsboy Jack Kelly, Jordan is delivering a star-making turn that definitely land the gifted young performer a Best Actor nomination.
His onstage love interest, Kara Lindsay, would be wise to take a page from Nikki M. James' book and submit herself in the supporting category, allowing her to avoid directly competing with Tony favorites like Audra McDonald and Kelli O'Hara.
If she does go the supporting route, her charming work should be enough to net this Broadway newcomer a Best Actress nomination, further strengthening the show's real life Cinderella narrative.
The Best Man
This show's Tony prospects are difficult to pin down.
Although many reviewers admitted the play's subject matter remains topical, the consensus seems to be that we didn't really need another revival of this work having just seen a production back in 2000.
In a crowded year for plays, that could be enough to knock the show out of the Best Revival race.
On the other hand, most critics jumped at the chance to see so many theatrical tyrants in one place, regardless of the quality of the material.
Any opportunity to see greats like Angela Lansbury and James Earl Jones practice their craft is cause for celebration, and the excitement of having them back onstage could lift the show into contention for the big prize.
Lansbury and Jones, both of whom have multiple Tonys to their name, will surely be nominated again in the Supporting categories.
And in such a busy season, two high profile nominations is nothing to be ashamed of.
End of the Rainbow
By all accounts, this play about the final months of Judy Garland's life is nothing special, at least from a scripting standpoint.
Despite the Tonys' love for all things British (this production comes straight from the West End), I think that disappointment is enough to keep
End of the Rainbow
out of the Best Play or Direction categories.
But from the time it was announced, this show has clearly existed only to highlight the extraordinary talents of star Tracie Bennett, who has generated the kind of raves most actors only dream about.
An assured Best Actress nominee, I think Bennett and her producers will be just fine with their single nomination.
Evita
Broadway was clearly ready for the return of Eva Peron.
Evita
is currently doing stellar business at the Marquis Theatre, routinely landing among the top grossing Broadway shows alongside established mega-hits like
Wicked
and
The Book of Mormon.
Critical reaction to the show proved mixed, although there were generally more positives than negatives, with
Evita
being deemed one of Andrew Lloyd Webber's better works.
That should be enough, when combined with the show's clear commercial potential, to earn it one of the coveted Best Musical Revival slots.
Leading lady Elena Roger is an awards conundrum.
Before the show opened, she seemed like a shoe-in for a Best Actress nomination; her performance was critically heralded in London, and Eva is certainly the kind of role that earns you awards consideration.
Unfortunately, Roger really isn't up to the vocal demands of the role (more than one reviewer compared her singing unfavorably to Patti LuPone's iconic belting), although she does have some lovely character moments.
I'm not ready to give Roger's Best Actress nomination to someone else, although if her name isn't among those called next Tuesday I won't be terribly surprised.
Michael Grandage deserves a Best Director nomination for his expert staging of the piece, which unlike Roger did manage to avoid comparisons to the Broadway original.
And choreographer Rob Ashford has been nominated for much worse work than his work here, and a Best Choreography nod would be an excellent way to recognize its strengths.
Given the amount of money spent on this revival, the Sets, Lights, and Costumes are all viable contenders for nomination slots as well, as expensive physical productions always do well in those categories.
And finally, the always reliable Michael Cerveris will hopefully be rewarded with a Best Supporting Actor nomination for his excellent portrayal of Juan Peron, a role that would be utterly forgettable in a lesser actor's hands.
Be sure to check back throughout the rest of this week for more Tony talk, and then again after May 1st to hear my reaction to the big day.
For more a look at the other shows that opened this season and where they stand in the Tony rankings, check out these past articles.