And just like that, it's Tony time! After the seemingly never-ending winter endured by New York and the rest of the country, spring has sprung and with it comes a veritable deluge of new Broadway openings. With Tony nominations just around the corner, it's time for my annual guessing game of which shows and performers will be waking up to very good news on Tuesday, April 29th.
As always, I am working on a combination of firsthand experience, educated guesses, and wild speculation. And just to give myself a bit of a buffer, I will be picking one Wildcard nominee in each category, representing the person or production I think most likely to unseat one of my official guesses (the Tony voters love throwing in a curveball every now and again). Today I will focus on the production categories, since they are typically the easiest to predict, before following with my prediction for Lead Actor, Lead Actress and then, for the first time ever, Featured Actor/Actress. Now let's make some predictions!
Best Musical
Every other piece on A Gentleman's Guide inevitably uses a picture of one of Jefferson Mays' 8 characters, so I'm bucking the trend and highlighting his equally talented costars Lisa O'Hare and Bryce Pinkham.
Thanks to a much discussed
rule change
back in February, this year's Best Musical category could potentially be expanded to five nominees instead of the traditional four, making things that much trickier to predict. Even though the committee does not have to pick five nominees, I can't imagine they would have gone through the trouble of changing the rules not to exercise their newfound power this season. That said, while this year saw an unusually high number of new musicals open on Broadway, very few were critical homeruns, so which five shows will make the cut is up for debate.
As far as sure things, I'd consider Disney's
Aladdin
a guaranteed nominee since many critics felt it was the Mouse House's most successful productions since
The Lion King. A Gentleman's Guide to Love and Murder
has taken to bragging that it is the "best reviewed musical of the season," a claim which is backed up by the fact that it leads both the Drama Desk and Outer Critics Circle Awards in total nominations; I think this delightfully clever farce will receive a well-earned nomination. And although its status as a revue rather than a traditional book musical will hurt its chances of actually winning, the well-received
After Midnight
is a likely lock for a nomination as well.
After that, it's anyone's guess.
Bullets Over Broadway
divided critics much more than I expected it to, and is conspicuously absent from the Drama Desk and Outer Critics lists (it did get a shout out from the Drama League, though). Still, the show has such a wealth of talent involved and is one of the more commercial offerings of the season, so it can't be ruled out completely. I personally thought
Rocky
was a bit of a train wreck, no matter how impressive the final twenty minutes are, but that show has done well in the guild nominations so far. And the theatre community has definitely warmed to
Beautiful,
which has done consistently solid business since quietly opening this past January. But Tony nominators typically like to include one "artsy" musical (think
Next to Normal
or
Fela!
), and the show most likely to fill that slot is Jason Robert Brown's gorgeous
The Bridges of Madison County
over the ambitious but flawed
If/Then.
I'm hoping
Bridges
manages to KO
Rocky
(a great finale does not a good show make!), with
Beautiful
taking the final slot by being the least offensive option among the remaining shows.
Nominees:
After Midnight
Aladdin
Beautiful
The Bridges of Madison County
A Gentleman's Guide to Love and Murder
Wildcard:
Rocky
Best Play
Bryan Cranston and company are going All the Way...to the Tonys!
Unlike the Best Musical category, I don't think there are enough strong productions in this category to cause the Tony committee to nominate five shows. I think we will see the traditional four nominees, with the safest bet being the Bryan Cranston-led
All the Way
. Will Eno's bizarre, divisive
The Realistic Joneses
probably has enough admirers to net a nomination, especially given the strength of its starry cast. Given the theatre community's respect for Terrance McNally and the fact that the play
probably hits *very* close to home with a lot of Tony voters, I think
Mothers and Sons
has a good shot at a nomination, despite being mostly overlooked by the various guild awards. The final slot will go to either Harvey Fierstein's
Casa Valentina
or John Patrick Shanely's
Outside Mullingar.
Both authors are highly respected among the theatrical community, although Fierstein's decades of musical bookwriting may have damaged his playwriting street cred. Then again, the entire community seems to love Fierstein not just as an artist but as a person, and his play is much fresher in voters' minds than the now shuttered
Mullingar.
I'm going to stick by my guns and predict that
Casa
wins out in the end, although I won't be surprised if the committee does go with five nominees just to avoid having to choose.
Nominees:
All the Way
Casa Valentina
Mothers and Sons
The Realistic Jonses
Wildcard:
Outside Mullingar
Best Musical Revival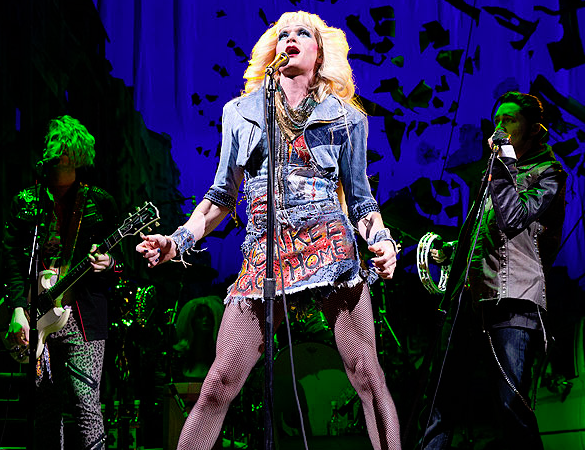 You guys, there is a LOT of cross dressing happening on Broadway these days.
The flip side of the rule change regarding the number of production category nominees is the much less talked about but in some ways more interesting possibility that the committee can REDUCE the number of slots in years with a lack of eligible quality productions. I can't prove it, but I'm guessing that change is in direct response to the fact that for the past few years, Best Revival of a Musical has been the Tony's equivalent to a participation award; everyone who's eligible typically gets nominated. Since the committee went out of its way to rule Roundabout's revival of their
Cabaret
revival eligible (even though it is the exact same production with the exact same creative team that won this award in 1998), I'm guessing we will see a four-nominee category where everything that could be included is.
Nominees:
Cabaret
Hedwig and the Angry Inch
Les Miserables
Violet
Wildcard:
The exclusion of
Cabaret
from this list
Best Play Revival
Of Mice and Men should get a Tony nomination, assuming star James Franco didn't call any members of the nominating committee a "little bitch."
The musicals may get all the press, but this has been an absolutely fantastic year for play revivals as well, and since the repertory productions from this fall are each being considered separately, there are 14(!) eligible shows in this category, many with fantastic reviews. Even with 5 nominees someone is going to get snubbed, but there are a few productions I consider a lock for recognition. Everyone and their mother went gaga over John Tiffany's
The Glass Menagerie
(except me, who named it one of the
Worst Shows of 2013
), and it is sure to be nominated. So is the Mark Rylance-led
Twelfth Night,
a much more deserving show that is probably the frontrunner to win the whole thing. Heading into the spring I would have considered the Denzel Washington-led
A Raisin in the Sun
a near certainty, but critics weren't as enthusiastic about it as they were about
Fences
a few seasons back.
Meanwhile, Roundabout got fantastic reviews for both
The Winslow Boy
and
Machinal,
although both shows have been off the boards for so long they probably aren't real contenders for recognition. Patrick Stewart and Ian McKellan made the famously obtuse
Waiting for Godot
feel fresh and accessible, and given that American esteem for the two British thespians only increases with time they could very well push that production into contention.
Of Mice and Men
and
The Cripple of Inishmaan
are both star-driven revivals that don't have the buzz of Washington's play but are doing pretty fantastic business, and
Lady Day at Emerson's Bar and Grill
has the good fortune of being a starring vehicle for Broadway's reigning queen, Audra McDonald. Of these, I think the newness factor will work in
Inishmaan's
favor, while
Waiting for Godot
and
Of Mice and Men's
star power will push them over the edge to the semi-surprising exclusion of
A Raisin in the Sun.
Audra McDonald's guaranteed acting nomination for
Lady Day
will likely be seen by the nominations committee as a way to honor that entire production.
Nominees:
The Cripple of Inishmaan
The Glass Menagerie
Of Mice and Men
Twelfth Night
Waiting for Godot
Wildcard:
A Raisin in the Sun
Those are my picks for the production categories; check back tomorrow to see my predictions for Best Actress, which includes perhaps the most competitive race of the season.