Last week I published the first half of my
Best Shows of 2013
list, and now it's time to reveal the top 5 theatrical experiences I've had all year. Please note this list is limited to productions I have personally seen, so if your favorite isn't on here it may simply be because I didn't get a chance to see it. It may also be because I am a contrarian who likes to go against the grain, but it's more likely the first thing.
Here's my Top 5 of 2013:
5) The Last 5 Years

Time will only tell if Adam Kantor and Betsy Wolfe will have the kinds of careers their predecessors Sherie Renee Scott and Norbert Leo Butz went on to have, but I've got my eye on Wolfe.
I've long held Jason Robert Brown's
The Last 5 Years
in high regard musically, and in my opinion it is his most accomplished score to date (although with
The Bridges of Madison County
and
Honeymoon in Vegas
on the horizon, that may soon change). What I've never been sure of until seeing this spring's stunning Off-Broadway revival was whether this chronicle of a couple's marriage and divorce works dramatically. I am happy to report that
The Last 5 Years
isn't just good music, it's plain good theatre, and this production was directed with supreme invention and sensitivity by Brown himself. Betsy Wolfe gave a star-making performance as Cathy, finding far more comedy in the role than I ever imagined possible while maintaining a staggering sense of vulnerability and a searing emotional honesty. Co-star Adam Kantor managed the difficult task of making his lout of a character not only understandable but sympathetic, and the pair's chemistry made the entire show click despite their limited shared stagetime. Most impressive of all, the pair proved themselves to be equal to the near-legendary performances given by Sherie Renee Scott and Norbert Leo Butz in the original production, which thanks to the original cast recording are as vivid and alive in my mind as if I had seen them in person.
4) Twelfth Night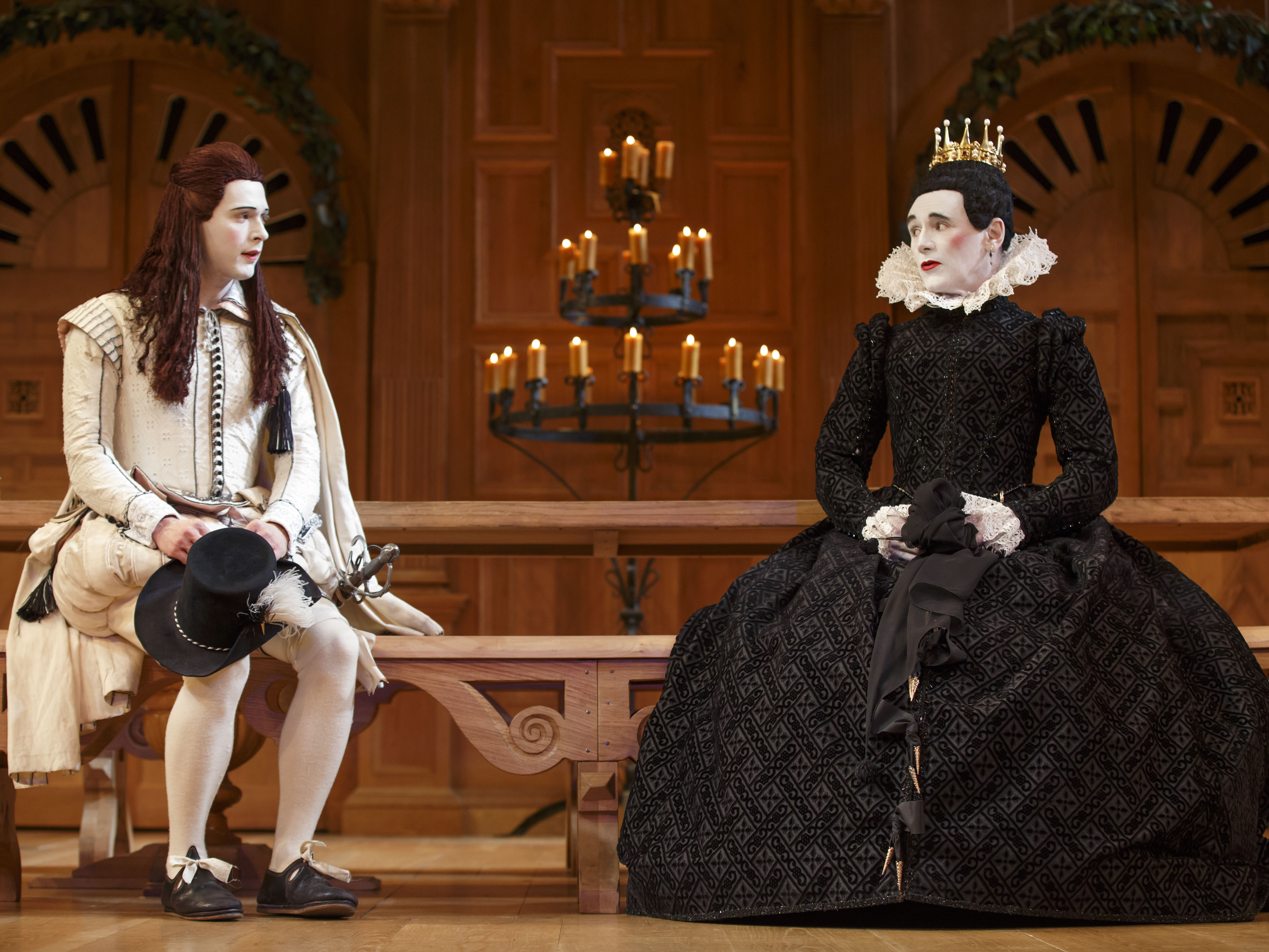 You'd never guess what a ham was lying underneath Mark Rylance's stately black mourning gown.
Twelfth Night
has never been my favorite Shakespeare, and the appeal of seeing Mark Rylance back onstage is the only reason the comedy's current Broadway revival was even on my radar. As the grieving Countess Olivia, Rylance exceeds even the loftiest expectations, hamming things up to great effect while still maintaining his character's believability and emotional truth. The surprise for me was just how effective the rest of the all-male cast is, and for the first time in my life I actually found
Twelfth Night
to be consistently, laugh-out-loud funny. This often hysterical production may pride itself on its adherence to the practices of Shakespeare's day, but it is also the most accessible interpretation of any of the Bard's works to be seen in years. New York has been host to a surplus of Shakespeare in recent months, but I have trouble imagining a production more delightful and entertaining than this masterpiece of classical acting. I have no qualms about recommending this production to anyone, Shakespeare fan or not.
3) Pippin
All hail King Pippin? Please. All hail Queen Paulus, who has directed the most satisfying musical revival of the year and continues her string of Tony-winning hits on Broadway.
Diane Paulus has done it again. In fact, I would argue that
Pippin
is the crowning achievement of her Broadway career, the perfect melding of show and concept to create one of the most electrifying musicals currently on the Great White Way. I've had a soft spot for
Pippin
since performing in the show in college, but will readily admit the problematic book and unconventional structure presents certain challenges for anyone looking to produce it. Paulus and her sensational cast have overcome all of these obstacles with ease, and never has the musical's opening promise of "Magic to Do" been so completely fulfilled. Paulus' inclusion of circus elements on top of the Fosse-esque dancing takes
Pippin
to another level, and the Stephen Schwartz score has never sounded better. Patina Miller manages to make her interpretation of the Leading Player the equal to Ben Vereen's iconic turn, and is ably matched by stellar supporting turns by Terrance Mann, Charlotte d'Ambroise, and Andrea Martin (who has since left the show). I've already seen the show twice and would happily return for a third visit to this wondrous celebration of the theatre, expertly helmed by one of the best musical directors working on Broadway today.
2) Matilda
If my school's entrance had looked like this, I wouldn't have wanted to go, either.
Alright, it's time to get real:
Matilda
probably deserves that Best Musical Tony more than
Kinky Boots
does
.
I won't begrudge
Boots
any of it's success, and
Matilda
has been doing just fine without the big prize, but I cannot recall a more inventive, entertaining new musical on Broadway this year than this adaptation of the Roald Dahl novel. The wit and ingenuity on display at the Shubert Theatre are second to none, challenging the show's young audience rather than talking down to them and leaving as much (if not more) for the adults to enjoy. Matthew Warchus' electrifying staging gives the show a driving energy that is infectious (his staging for the "School Song" is perhaps the most breathtaking moment I've seen onstage all year), and the quality of performances he has coaxed out of his young cast is extraordinary. Everything about
Matilda
works, and Bertie Carvel's scene-stealing turn as Miss Trunchbull was one for the musical comedy history books. Young or old, there is plenty to enjoy about
Matilda,
and anyone who loves inventive new musicals would be doing themselves a disservice by not seeing this fantastic show.
1) Natasha, Pierre, & the Great Comet of 1812
Oh how she blushes. Amber Grey is just one of the many sensational things about Natasha, Pierre, & the Great Comet of 1812 Off-Broadway.
This Off-Broadway show came out of nowhere and completely blew my mind. A self-described "electropop opera," this musicalization of a sliver of Leo Tolstoy's
War and Peace
is the single most astounding show of the year. Musically, the through-composed score is a treasure trove of invention, fusing disparate elements like Russian folk music, electronica, and even art song into a cohesive whole that never ceases to surprise and amaze. Given a knockout environmental staging by director Rachel Chavkin that makes use of every nook and cranny of the specially designed Kazino nightclub,
Natasha, Pierre, & the Great Comet of 1812
is a swirling concoction of a musical unlike anything I've ever seen, performed by an outstanding ensemble of actors who are firing on all cylinders. As Natasha, Julliard graduate Phillipa Soo is the find of the season, with a soaring voice and staggering emotional honesty that anchors the show and makes its grand themes feel immediate and accessible. There are too many amazing actors to mention them all, but Amber Grey, Grace McLean, and Brittain Ashford make particularly strong impressions.
Let me say this in no uncertain terms: GO SEE THIS SHOW!!! Anyone who has ever complained about the lack of innovation in modern musical theatre owes it to themselves and the art form to support this piece. And let me know when you're going, because I will gladly join you!
And there you have it. These are my personal picks for the best theatrical experiences of 2013. If there are any you think I missed, please let me know, as I'm always looking for recommendations as to which show I should see next. Here's hoping 2014 is an equally good year for inventive new works!