A few weeks ago, I started to publish a list of my
Top 10
theatrical experiences of all time. This list includes the shows that have had a profound impact on my theatre-going life, and the ones that have remained the most vivid in my memory since initially seeing them. You can read the first article for a more thorough breakdown of the criteria I've used, but basically for a show to make the list it had to play Broadway and be solid from top to bottom (excellent star turns in mediocre shows have been left off). And the list is alphabetical, because coming up with a numbered ranking for these 10 shows would just be too hard.
So picking up where I left off:
The Book of Mormon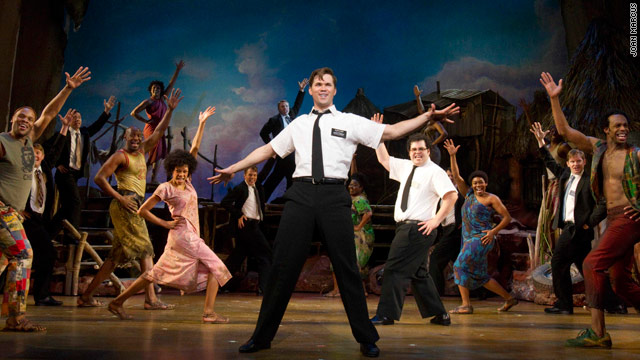 Andrew Rannells and the original Broadway cast of The Book of Mormon
The Book of Mormon
holds a distinction that I do not give out lightly; despite my hesitancy to rank the shows on this list, almost 3 years after my first viewing I can safely say that
The Book of Mormon
is the best night I've ever spent in the theatre. The energy inside the theatre was palpable during the early March preview I attended back in 2011; though highly anticipated, the show was shrouded in secrecy. The producers had only released four production stills, there was no video or audio available, and the program purposefully lacked a song list or even a basic scene breakdown. None of us quite knew what we were getting into, and the experience was all the better for it.
As a huge fan of
South Park: Bigger, Longer, and Uncut
(easily among my favorite films of all time), I had enormous expectations for this show, and it handily exceeded every one of them. By the end of the opening number I was grinning from ear to ear, and soon after that I was howling with laughter. The show was every bit as gleefully offensive as you could imagine, and crossed a couple of boundaries even I wasn't sure they were allowed to. And yet the show was so hilarious, and more importantly so heartfelt, that it didn't matter. The show had a soul, and a soul that not only respected but embraced the traditions of the glitzy book musicals of days past. There are rousing production numbers, comic duets, and second act power ballads that manage to both gently mock the absurdity of such things while at the same time being excellent examples of those troupes.
Simply put,
The Book of Mormon
is one of the best constructed musicals of the new millennium, as well as one of the funniest. But what made this experience truly transcendent for me was the absolutely extraordinary original cast. Everyone, from the principals to the ensemble members, was an extremely talented triple threat with spot-on comic timing and amazing chemistry. While Josh Gad was rightly praised for his scenery chewing turn as the hopelessly awkward Elder Cunningham, I think Andrew Rannells' supremely smug Elder Price was the show's true revelation. Rannells managed to play straight man to Gad's comic genius while remaining hilarious in his own right, and turned what could have been a thoroughly off-putting character into a beacon of charisma and old-school showmanship. (Also, Rannells' pop-tenor is nearly flawless.) Tony-winner Nikki M. James provided the show's heart and soul as Ugandan tribeswoman Nabalungi, and Rory O'Malley led one of this decade's great production numbers with his showstopping "Turn It Off" (which incidentally includes my favorite sight gag in the entire show, and one that made me audibly gasp in delight when I first saw it).
The Book of Mormon
is rightfully one of the hottest tickets in town, commanding upwards of $450 per ticket for the premium seats. It is the only show running I would even consider paying that much money for, and I will continue to recommend it to any and everyone who will listen.
Follies (2011 Revival)
The "Loveland" sequence from the 2011 revival of Follies
Stephen Sondheim's utter mastery of the musical theatre form is sometimes taken for granted, and I often call him the Shakespeare of the musical stage. Like the Bard, Sondheim's works have the remarkable ability to reveal new facets of meaning with each subsequent viewing, and have proven able to withstand a wide array of reimaginings and concept-based stagings. But sometimes, as the breathtaking 2011 revival of
Follies
proved, all you need is to do the show the way it was written. Grandly opulent and utterly heartbreaking, this revival took a show I had always found intriguing and skyrocketed it up my personal list to the point where I consider it one of the finest musicals ever created.
The show, centered around the reunion of the last remaining performers of a
Ziegfeld Follies
-esque spectacle, is simultaneously about nothing and everything. There is very little plot, and yet over the course of the evening the show manages to make deeply poignant observations about growing older and regret while still celebrating the vast amount of beauty to be found in life. Sondheim's score is a parade of pastiches that include some of the greatest ballads ever written, including cabaret standards like "I'm Still Here" and "Losing My Mind." The most expensive musical ever produced at the time of its original premiere,
Follies
requires an elaborate physical production and enormous cast, and this revival hit both of those elements out of the park.
Bernadette Peters' performance as Sally Durante-Plummer is probably one of the more divisive in recent Broadway history; I personally loved her, and found her character's slow unraveling to be a fascinating portrait of the cost of unmet ambitions. But nobody could argue with the stunning brilliance of her onstage husband Danny Burstein, who was a revelation as Buddy Plummer and robbed (ROBBED!) of a justly deserved Tony Award. And Jan Maxwell's pitch-perfect embodiment of the jaded, bitter Phyllis Rogers-Stone was such a masterclass in musical theatre acting that I can still vividly recall her two big numbers ("Could I Leave You?" and "The Story of Lucy and Jessie"). The only reason I am okay with her not winning a long-overdue Tony is because that year's victor was Audra McDonald for
Porgy and Bess,
which was one step beyond perfection.
Finally,
Follies
has what may be one of the most thrilling theatrical climaxes of any musical I've ever seen. Watching the main quartet of characters finally reach their breaking point, triggering the 20-minute long "Loveland" sequence in which each character is deconstructed in an elaborately-staged
Follies-
style production umber, had me on the edge of my seat in the way few shows ever had. I can still see that initial reveal, with the downstage drop curtain falling to floor to reveal the dazzling Loveland set, as if it had happened this morning.
That's enough for today. Hopefully I will be a little more regular on the blog postings, but even if it takes a while I promise the rest of this list is coming!