With the last show of the 2012-2013 Broadway season officially open, we now enter my favorite time of the theatrical year:
Tony season!
To celebrate this joyous occasion, I'm going to be posting a series of articles dedicated to guessing which productions and people will be among this year's nominees.
We'll find out how well I did on April 30
th
(last year I had an 82% success rate), but until then here's some educated guesses and wild speculation to tide you over.
Enjoy!
Kinky Boots
and
Matilda
are a lock in this category.
Before either show even opened, it looked as if this year's Best Musical race would be between Cyndi Lauper's Broadway debut and the Olivier-winning smash, and so far that is still the case.
That leaves two slots for the season's six other new musicals to fight over, a fight the critically lambasted
Chaplin
and
Scandalous
have no chance of winning.
The short-lived
Hands on a Hardbody
certainly had its admirers, but they are too few and far between to give it any serious momentum in this year's awards race.
If the Tonys were based solely on artistic merit – a novel idea, I know – the remaining two slots would go to
Bring It On
and
A Christmas Story.
Both were highly entertaining pieces of escapist entertainment with well-constructed stories and endearing musical numbers.
Christmas Story
in particular had an amazing score by Broadway newcomers Benj Pasek and Justin Paul, and I think that level of polish will propel it onto the nominees list.
But I think the fourth slot will go to
Motown the Musical,
as the Tonys have time and again shown favoritism towards commercially viable productions.
Motown
is one of the major hits of the spring and a regular member of Broadway's million dollar club; such financial prowess practically demands recognition by the Tony committee.
Couple in the fact that
Bring It On
closed what seems like eons ago, and
Motown
has the clear edge.
Nominees:
A Christmas Story
Kinky Boots
Matilda
Motown the Musical
Runner-Up:
Bring It On
Jessica Hetch and Judith Light star in Manhattan Theatre Club's The Assembled Parties
The big question in the Best Play race is how seriously Tony voters will take the glut of one person shows that have opened this season.
Most of the solo outings have featured celebrities playing people other than themselves, so they would technically qualify, but I think the traditionally-minded Tony committee will shy away from honoring any of them with production nominations.
Manhattan Theatre Club's
The Other Place
and
The Assembled Parties,
however, are exactly the kind of plays the Tonys like to recognize.
High-minded affairs from a prestigious non-profit, both works received glowing reviews and are the closest thing to sure bets in this category.
And the overwhelming amount of goodwill towards the late Nora Ephron practically guarantees her
Lucky Guy
is announced with the rest of the nominees come Tuesday morning.
As for the final slot, it's something of a toss-up between Christopher Durang's
Vanya and Masha and Sonia and Spike
and Douglas Carter Beane's
The Nance.
I'm going to give Durang the edge here, as his play is seen as a welcomed return to form whereas Beane's burlesque comedy is viewed more as an excellent Nathan Lane vehicle rather than a strong show in its own right.
Nominees:
The Assembled Parties
Lucky Guy
The Other Place
Vanya and Masha and Sonia and Spike
Runner-Up:
The Nance
Best Revival of a Musical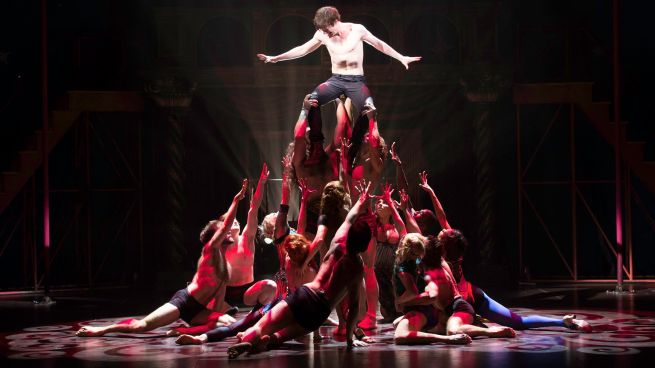 Matthew James Thomas and the company of the Diane Paulus helmed Pippin
There are two things we can be certain of in this category:
that Diane Paulus' circus-inspired
Pippin
will be among the nominees, and that the critically reviled
Jekyll & Hyde
will be completely ignored.
Now, since currently running shows with mass road appeal tend to have an edge among Tony voters, I think we can safely add both
Annie
(which was fairly good) and
Cinderella
(which was fairly awful) to the list of nominees.
That leaves one slot left for
Elf
and
The Mystery of Edwin Drood
to fight over, and since the theatrical community could barely muster up enthusiasm for
Elf
during the two months it ran I doubt Tony voters will honor it with a nomination.
Drood,
on the other hand, was far better than any production of such awful material deserved to be, and therefore earns its place among the Best Musical Revival nominees.
Nominees:
Annie
Cinderella
The Mystery of Edwin Drood
Pippin
Runner-Up:
Elf
(but who are we kidding, it doesn't have a chance)
Tracy Letts as George and Amy Morton as Martha in the latest Broadway revival of Who's Afraid of Virginia Woolf?
This is the one production category where I don't think being a currently running show is going to make much of a difference.
If Steppenwolf Theatre Company's production of
Who'sAfraid of Virginia Woolf?
doesn't get nominated then we should just consider this entire year's nominations null and void, as such an omission would be a clear sign of insanity on the committee's part.
And as I can't recall one negative word being spoken about
Golden Boy,
I think it's a lock as well.
With five play revivals this season, simple probability says that Roundabout practically has to score one nomination, and I think it will be for
The Trip to Bountiful.
Besides being their most recent production, it has a high-profile cast led by a Hollywood legend that received very good reviews, and the New York theatre community has been particularly enamored with playwright Horton Foote as of late.
The final slot is difficult to predict, but I'm going to rule out
Cat on a Hot Tin Roof
and
Glengarry Glen Ross
for essentially the same reason:
they were poorly received productions that did not represent their Tony-winning headliners' best work.
Orphans
opened to similarly indifferent reviews, and is therefore also out of contention.
That leaves
Macbeth
and
The Heiress
as the only real contenders
,
and I think the latter has the edge.
While most critics loved Alan Cumming, they also felt his bravura turn overshadowed Shakespeare's text, whereas people were generally pleased with the Victorian-set drama as a whole.
*Note:
Because this is my blog and I get to make the rules, I'm going to say should Roundabout manage two nominations in this category their well-reviewed take on
Cyrano de Bergerac
is next in line.*
Nominees:
Golden Boy
The Heiress
The Trip to Bountiful
Who's Afraid of Virginia Woolf?
Runners-Up:
Cyrano de Bergerac, Macbeth
Be sure to keep an eye out for the rest of my nomination predictions, and once the official nominees are announced on Tuesday look for my personal reactions and the beginning of a month's worth of speculation!