Review: Smash Season 2 Premiere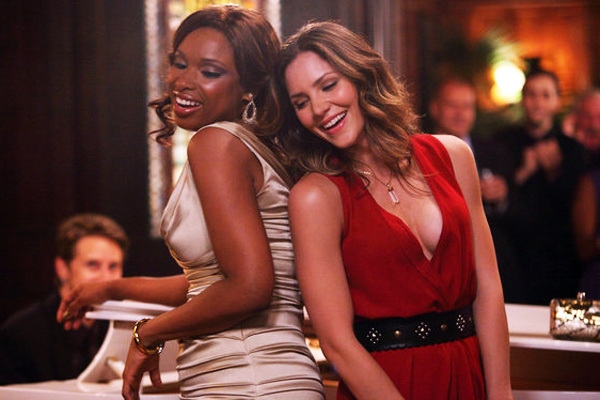 Jennifer Hudson and Katherine McPhee prove that once upon time, American Idol actually produced marketable talent.
NBC had a lot riding on
Smash,
the big, expensive musical drama about the creation of a Marilyn Monroe musical called
Bombshell.
After a stellar pilot, the show somewhat undeservedly became one of the most mocked pieces of entertainment in pop culture, resulting in the firing of creator/showrunner Theresa Rebeck and several major cast members.
Following an extended hiatus to accommodate the show's retooling,
Smash
has finally returned with a two hour premiere that largely resembles last year's incarnation, although under the surface lurks a host of subtle but significant tweaks with the potential to radically increase the show's overall quality.
Season two of
Smash
picks up right where season one left off, with the cast and creative team of
Bombshell
eyeing a Broadway transfer after a largely successful run in Boston.
Karen (Katherine McPhee) received glowing reviews for her performance as Marilyn, while critics also singled out director Derek (Jack Davenport) and composer Tom (Christian Borle) for their many contributions.
Unfortunately, the press wasn't so enamored with Julia's (Debra Messing) libretto, and the behind the scenes shenanigans that plagued
Bombshell's
development now threaten to overshadow the final product.
Meanwhile poor Ivy (Megan Hilty) finds herself struggling to get back in Karen's good graces after sleeping with the rising star's boyfriend, a move that has caused the entire creative team to give her the cold shoulder.
One thing new showrunner Joshua Safran has repeatedly promised is that
Smash 2.0
would focus more on the backstage drama and less on the character's soapy personal lives.
The season premiere certainly supports that statement, with all unresolved interpersonal plotlines wrapped up by little more than a wave of the hand before new show-related conflicts are introduced.
While this is a welcomed bit of house cleaning, it eats up a large portion of the premiere's first hour and makes that episode feel like a repeat of the misguided tonal shifts perpetrated under Rebeck's guidance last year.
In fact, the first hour is so hamstrung by having to clean up last season's mess that I'd wager the decision to have a supersized premiere was driven primarily by the network's desire to trot out the second episode as a better example of what season two has in store.
The new storylines introduced during the premiere are actually quite interesting, and executed with a more consistent tone and pace than we've previously seen.
The
Rebecca-
inspired financial woes
Bombshell
encounters show promise, and illustrate that Eileen (Anjelica Huston) should really be more suspicious of her bartender boyfriend's extensive bank account.
Having serial womanizer Derek hit with a succession of sexual harassment lawsuits is a stroke of genius that makes excellent use of the delightfully smarmy Davenport, and the addition of Jennifer Hudson as a Tony-winning actress/inspirational figure for Karen brings with it a welcomed dose of spunk and genuine star wattage.
(As expected, Hudson's musical numbers are positively thrilling.)
But the storyline with the biggest implications for
Smash's
future is the introduction of a competing musical being developed by struggling Brooklyn songwriters Jimmy (Jeremy Jordan) and Kyle (Andy Mientus).
It accomplishes the hat trick of providing a point of contrast by which to judge
Bombshell's
progress, creating conflict by offering the possibility of key cast members jumping ship, and making
Smash's
world seem more alive by not having
Bombshell
exist in the vacuum.
Bad-boy Jimmy also makes an intriguing love interest for Karen by virtue of being the only person who doesn't immediately worship the ground she walks on, although right now the character is so aggressively off-putting it somewhat negates any narrative appeal he provides.
Speaking of Karen, the struggling artist from Iowa has emerged as the show's most problematic character, a handicap made even more maddening by the fact that she is clearly intended to be
Smash's
protagonist.
Her experience in Boston has replaced her wide-eyed naivety with an unearned sense of entitlement, resulting in diva-esque behavior that makes her increasingly hard to root for.
Karen now treats Ivy with the same disdain Ivy exhibited for poor, sweet Karen in season one, but whereas Ivy was eventually scolded and told to tone down her hatred the other characters are inexplicably willing to support Karen's vindictiveness.
On the plus side, this has allowed Ivy to revert back to the insecure but likably ambitious woman she was in the pilot, becoming a much more compelling character in the process (and her budding friendship with Julia certainly doesn't hurt matters).
Overall, the first two hours of this season of
Smash
give us a show that is slowly but surely recovering from the dark days of Bollywood-inspired fantasy numbers that marked season one's low point.
The show still has its quirks, including an eye-roll inducing transition into a Derek-centric musical number and a couple of highly implausible plot contrivances (Karen is apparently the only actress in New York who still lists her physical address on her resume).
But many of last season's most glaring problems are conspicuously absent – although I fear dearly departed Ellis may reappear further down the line – and replaced with a slicker, more coherent tale of backstage politics and rival projects.
The show has a vast untapped potential, and hopefully Safran and crew can harness it to create true must-see TV as the season progresses.